Apple iPhone 14 Plus 256GB Yellow 2023
The Apple iPhone 14 Plus has a more spacious screen
The most obvious difference between the two base iPhones this year is their display sizes.
The iPhone 14 Plus has a 6.7-inch display with a 2778 x 1284 pixel, 458ppi resolution. The iPhone 14, meanwhile, has a 6-inch smaller, 6.1-inch screen with a 2532 x 1170 pixels, 460ppi resolution.
While the 14 might sound small in comparison to the Plus, it's the same size as the iPhone 13. This makes the Plus, not a replacement for the 13, but a larger alternative to the 14 for iOS fans in need of a bigger screen, whether that be for streaming movies or gaming on the go.
Both the 14 and the 14 Plus pack Super Retina XDR displays with OLED screen technology for bright whites and true blacks and Apple True Tone onboard.
The Apple iPhone 14 Plus is more lightweight
One bonus to the 14's smaller screen is that the phone is more compact and lightweight than the Plus.
The iPhone 14 measures 146.7 x 71.5 x 7.8mm and weighs 172g, while the iPhone 14 Plus measures 160.8 x 78.1 x 7.8mm and weighs 203g. That's 31g more in exchange for a bigger screen.
The iPhone 14 Plus also has a longer battery life
According to Apple, the Plus has the longest battery life ever seen on an iPhone. Though that doesn't mean the 14 is shabby either, as Apple says the smaller phone still has an "all-day battery life".
The iPhone 14 is capable of delivering up to 20 hours of video playback, up to 16 hours of video playback (streamed) and up to 80 hours of audio playback, while the 14 Plus offers up to 26 hours of video playback, up to 20 hours of video playback (streamed) and up to 100 hours of audio playback. That's according to Apple's specs anyway – you'll have to wait for our reviews for our verdict on the battery life.
The Plus also charges slightly faster, hitting 50% battery in 30 minutes with a 20W adapter as opposed to the 14 which can do the same in 35 minutes. That's only 5 minutes longer but still interesting to note.
The new 6.7-inch Apple iPhone 14 Plus has the best battery life ever in an iPhone.
No major changes externally, but internally, there are updates that improve thermals.
The iPhone 14, iPhone 14 Plus still sports the A15 Bionic chip, but it has an updated GPU.
iPhone 14, Apple iPhone 14 Plus has a new 12MP main camera with a larger sensor and larger pixel count.
The iPhone 14, iPhone 14 Plus' wide camera sport a 49% improvement for low-light photos. Night Mode exposure is twice as fast.
The selfie camera has autofocus for the first time. It has a 38% improvement with low-light performance.
There are improvements to video, too. There's an advanced stabilization mode called "Action Mode." No gimbal needed!
Improvements to eSIM, which eliminates the need to have a physical SIM card. You can have multiple phone plans with eSIM setup.
No more SIM tray on the Apple iPhone 14 Plus
iPhone 14 now has crash detection. It auto-notifies emergency services and contacts if you're in an scary situation.
Emergency SOS via satellite, thanks to new iPhone 14 antennas. It's included free for two years.
How on earth
do you communicate
via satellite?
Satellites are moving targets with low bandwidth. It can take minutes for messages to get through. Since every second counts, iPhone front-loads a few questions to assess your situation — just tap to respond. Then it shows you where to point to connect to a satellite.
Once connected, iPhone automatically sends your answers, location, Medical ID (if set up), and battery level to a dispatcher.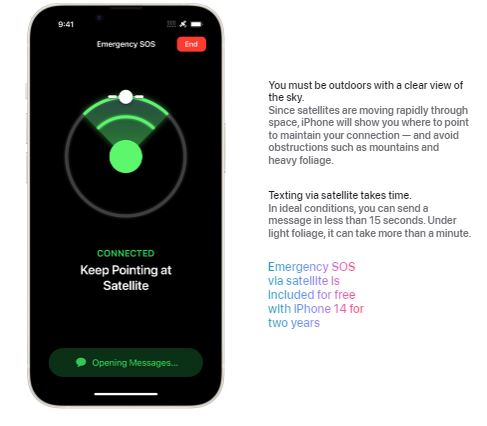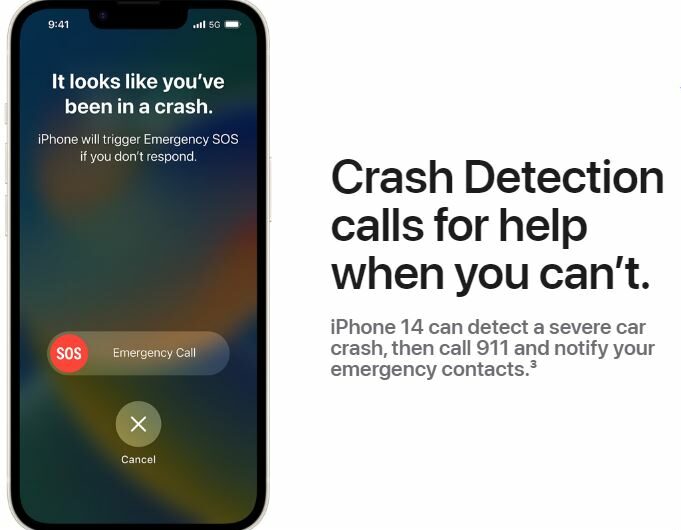 Get our best battery life ever on iPhone 14 Plus. And awesome all-day battery life on iPhone 14.