Huawei Nova Y70 4GB RAM 128GB
Be inspired, Be nova
6000 mAh Battery1 | 22.5 W HUAWEI SuperCharge2 | 6.75″ HUAWEI FullView Display3
Glamour Meets Glimmer
The phone's glassy exterior seems to flow through the fingers, rounding into form as the eyes follow each graceful curve. Stunning Crystal Blue, Pearl White and Midnight Black models turn this dance of light and shadow into a spectacle of color!
Powers Your Week, by Leaps and Bounds
HUAWEI nova Y70's 6000 mAh battery only needs to be charged twice a week. You can even wring another 12 hours out of just 5% – that's some serious staying power! Need a boost? 22.5 W HUAWEI SuperCharge will give 3 hours of video on just 10 minutes of juice!
HD Splendor on Full Display
With 6.75-inch HUAWEI FullView Display, and 90.26% screen-to-body ratio, HUAWEI nova makes watching blockbusters more immersive. Settle in for your binge watching, and stay glued for every glimpse, thanks to smart, eye-soothing ambient light adjustments.
Tap to Capture the Wonderful Moment
HUAWEI nova Y70 comes with a triple AI camera4 setup that's as adaptable as it is awe-inspiring. A touch of the shutter is all it takes to capture a distant landscape, priceless portrait, or timeless interaction.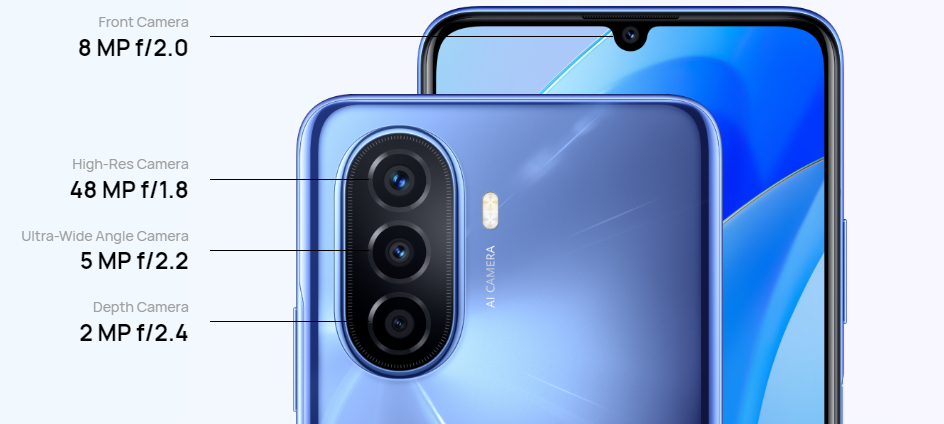 Clear Images
at Your Fingertips
The 48 MP main camera packs a formidable f/1.8 sensor, which lets in more light, for dazzling clarity and detail from end to end.
Eyes Wide Open
Go ahead, walk on the wide side! Whether soaring high to capture a grand skyscraper, or literally expanding your horizons, HUAWEI nova Y70 can take you above and beyond what you're accustomed to seeing, with a wide-angle camera that broadens the view all the way to 120 degrees!
Captures You 
at Your Best
The Huawei Nova Y70 8 MP selfie camera and cutting-edge AI software smooth out skin and highlight key features, so that you can always bask in the glow of you at your best!
Moves to Any Groove
Histen 9.1 and HUAWEI SuperSound audio technologies turn songs into soul-stirring sensations.9 Put on a pair of earphones for your own private concert, or make it a speaker to become the life of the party!
Take Easy Control
Swipe to open Control Panel and have access to your display settings, Wi-Fi, Bluetooth, and volume. Plus, activate smart collaboration with Device+, so you can edit phone files directly on your laptop or make phone calls on the tablet screen.