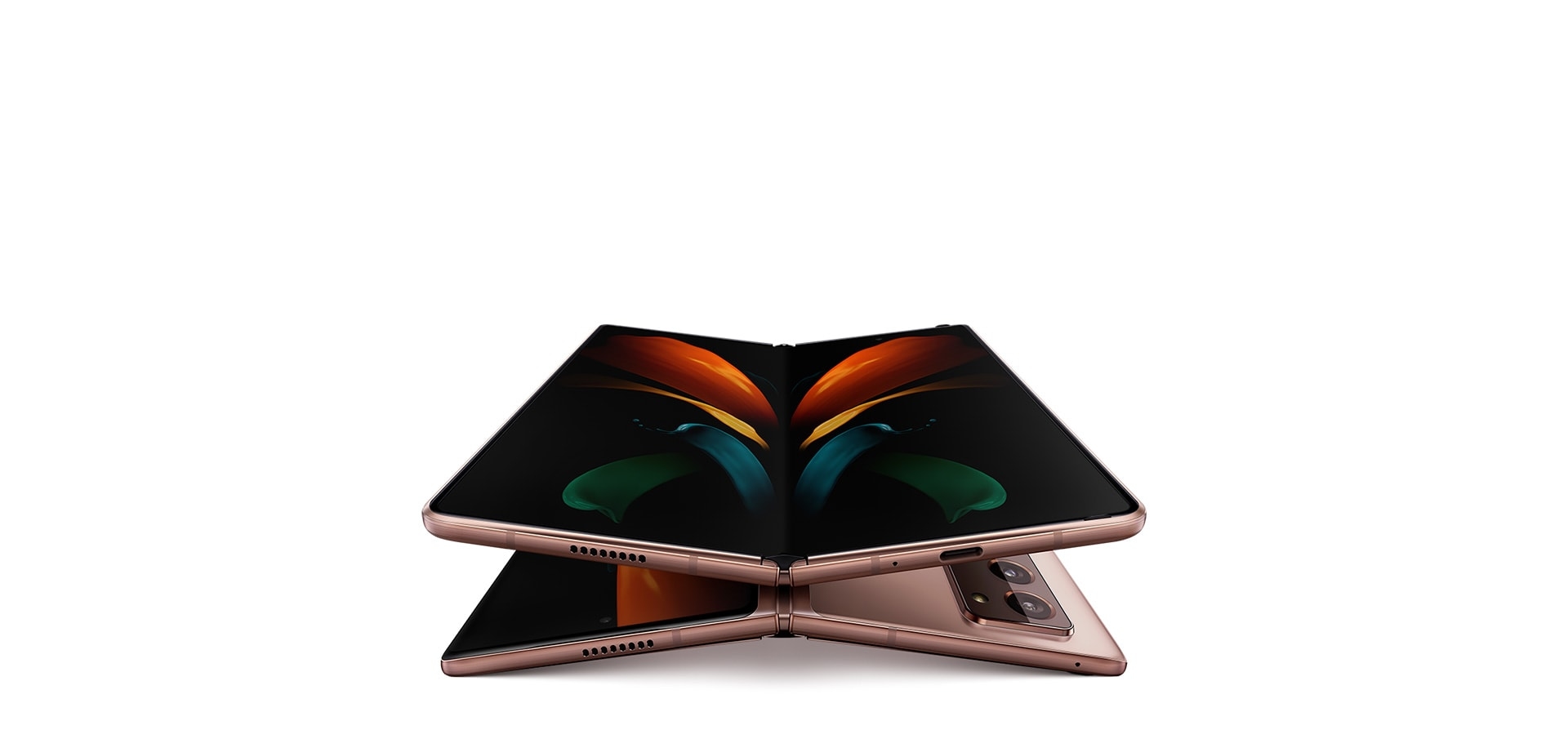 A mind-bending glass screen that folds like a book. A hands-free camera that shoots when you wave.
A precision crafted hinge that transforms a cutting-edge smartphone into something much more.
Meet the anything but ordinary Galaxy Z Fold2 5G
Designed to change the shape of the future
A stunning pair of mystic hues
Introducing Mystic Bronze and Mystic Black, two beautiful metallic tones polished to a smooth, satin luster.
Make it uniquely yours
A one-of-a-kind device deserves a touch of personal style. Galaxy Z Fold2 5G lets you choose your own hinge color, adding a unique pop of color that's all you.
Folded, a fully functional smartphone
Folded, it's a cutting-edge smartphone with a 6.2-inch screen—a generous display with plenty of room to write, build presentations and get work done with ease.
Unfolded, an immersive tablet experience
Made from Samsung Ultra Thin Glass, the 7.6-inch foldable display opens to deliver the rich colors of Dynamic AMOLED 2X. The screen emits reduced blue light, so you can unfold to a tablet-sized viewing experience and enjoy for hours on end.
Expansive display
on Infinity Flex Display
A tiny punch hole, no notch and slimmer bezels let you take in more of the screen with less distraction in the way.
Content adaptive
from 11Hz to 120Hz and more
The intelligent display detects what you're doing and shifts the refresh rate. So you get the ideal view and save on battery.
Engineered to give you the flexibility to do more
Find your angle
Flex mode lets you fold Galaxy Z Fold2 5G at any angle and hold it any way you like—or not hold it at all.2 Simply fold it to use Flex view on the Main Screen and make a hands-free video call with Google Duo. Or flip it to Cover view on the front to comfortably watch your favorite show.
You've never seen a smartphone do tricks like this
Two screens that stay on the same page
Open an app on the Cover Screen, then unfold to see it on the bigger screen with an optimized UI. The two displays work seamlessly to maintain app continuity.
Optimized apps
a larger view unfolds
Apps are optimized for the Main Screen, so you can simply unfold and the UI adjusts seamlessly. Plus, you can choose the view so even more content fits in one screen
Keeps up so you can keep ahead
With the upgraded multi-window layout and App Continuity, you can multitask with two apps on the Cover Screen, move it to the Main Screen, open a third app with Split Screen and then simply tap to work or play where you need to.
Unfold for a whole new gaming experience
Take advantage of fast response times and smooth action on the 120Hz Main Screen. Or hook up to a Bluetooth controller and Galaxy Buds Live with improved latency so you can game in real time.
It's even more impressive under the hood
Take on the future with 5G
For some devices, 5G is a pipe dream. For Galaxy Z Fold2 5G, it's right built into the chip, delivering next-level connectivity, speed and reliability—so you're ready for whatever the future brings, today.