SoundPEATS Watch PRO 1
Start a healthy lifestyle right on your wrist!
Flip your wrist to light up the screen and see real-time fitness data, helping to adjust your workout rhythm.
Understand your health on a deeper level via the SOUNDPEATS SPORTS app.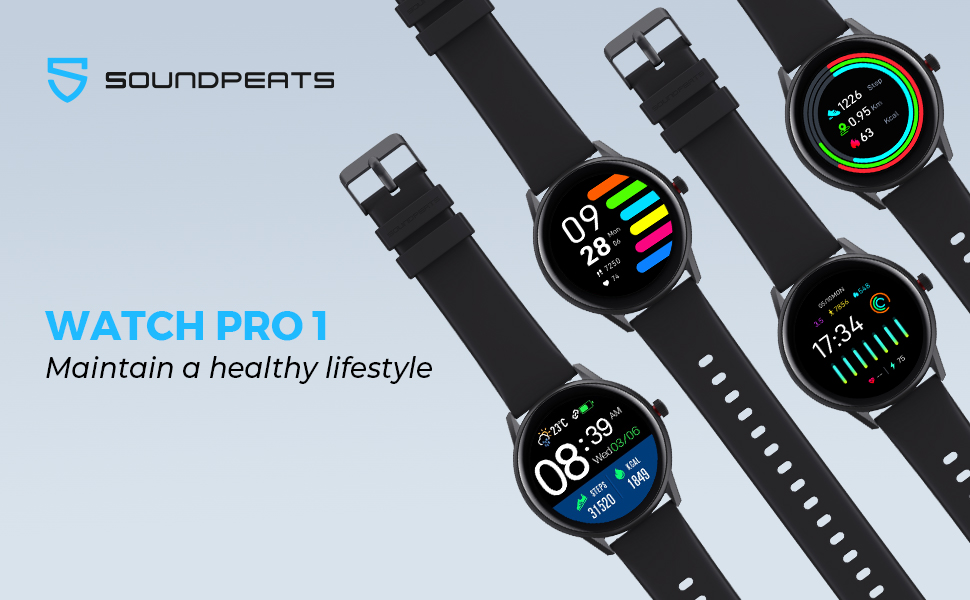 Smartwatch with 13 Sport Modes
The smartwatch supports 13 sport modes: Running/ Walking/ Cycling/ Alpinism/ Yoga/ Skipping/ Tennis/ Baseball/ Basketball/ Badminton/ Football/ Rugby/ Table tennis, tracking your daily activity and precisely measuring your favorite sport modes.
Connect to your smartphone's GPS to track routes you have traveled to gain better insights into your exercise data. (Note: It has no built-in GPS)
SoundPEATS Watch PRO 1 All-Day Heart Rate Monitor
With the latest built-in optical sensor, the smart watch can automatically monitor your real-time heart rate all day, helping you know your health better.
You can also intuitively view your heart rate graph and more detailed heart rate data in the SOUNDPEATS SPORTS app.
Keep Track of Your Sleep
The smart watch can track your sleep time and quality, recording your deep sleep, light sleep and awake time (only record sleep activity over 3 hours). It can also wake you up with silent vibrating alarms and won't disturb people around you.
You can understand and improve your sleep quality with the help of comprehensive analysis in the app.
Call & Message Alerts
SoundPEATS Watch PRO 1 You can read calls, texts, and social media notifications (such as Instagram/ YouTube/ Messenger/ Facebook/ Twitter/ WhatsApp) directly on the watch when it is connected to your phone. Keep you informed of anything important on the go.
Long Battery Life & Adjustable Brightness
With the upgraded 285mAh battery built for endurance, the digital watch supports 10 days working time and 30 days standby time per one full charge by the magnetic charger comes with watch. Four options of brightness levels allow you to easily read information in the sun or dark.
SoundPEATS Watch PRO 1 IP68 Waterproof
With IP68 waterproof standard, you can wear this fitness tracker when washing hands, taking a shower, running in the rain or swimming in the pool which is no more than 5 meters.